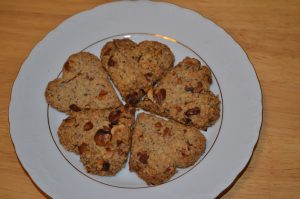 I thought I share with you something my family likes to snack on… homemade oatmeal and hazelnut cookies!
Rich in vitamin E (a strong antioxidant which task is to protect the body against oxidative stress- a damaging effect caused by free radicals), potassium (supports our bones and muscles), B vitamins ( important for our brain and nervous system) and magnesium that supports energy levels in our bodies;
The healthy option for somebody with a sweet tooth… 
Recipe:
Ingredients:
0,5 kg of oatmeal
100g of hazelnuts(optional- a handful of raisins)
3 tablespoons of poppy seeds
4 eggs
1 tablespoon of Xylitol/ honey
100g of unsalted butter/ coconut oil
a pinch of salt
Crush the nuts; separate the egg yolks from whites; take a bowl, pour yolks and Xylitol there, melt butter, add it to the bowl and stir it all well until you get a creamy texture; whisk the whites, adding a bit of salt, until stiff; add the oatmeal to the yolks , stir well, add the whisked whites, poppy seeds and nuts. Mix everything together and form cookies. Oven bake in temp.180′ for around 25 minutes. Approximately you get 40-50 cookies. Cookies do not need to be held in the fridge. I just cover them with a cloth. Enjoy!